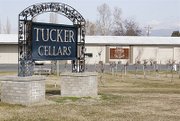 "It's time," said Randy Tucker, owner of Tucker Cellars, about his impending retirement from the winery business.
Tucker Cellars has been for sale since last year and Tucker said he's gotten some buyers who are interested in the business.
"No firm offers yet," he said. "But a lot of different interest."
Tucker said he and his wife plan to retire to Hawaii in the next couple of years. Although, he admits, it won't be a total retirement.
"At 63 I can't really retire," he said. "I plan on selling real estate over there."
On their most recent trip to Hawaii, Tucker met with a realtor and interviewed for a job. He said he was hired. Now he just has to sever his ties to the Lower Valley.
Tucker Cellars, located near Sunnyside's Sunnyview Park on Yakima Valley Highway, started in 1981 with two wines, now they have 15 varieties. But time is taking its toll on Tucker, himself.
"It's getting harder each year to drag hoses and jump on equipment," he said. "My bones take longer to recover each time. And the season seems to be getting longer. We used to be done in October, but the last couple of years it's gone much later."
Tucker also says it's tougher to be a standout winery in a crowd of 80 in the area than it was with the 10 or so in the area when Tucker Cellars was first getting established.
And so he's looking to Hawaii, where his brother lives. He considered a small farm but after visiting it on his most recent trip decided it might be more than he's interested in.
"It's five acres, coffee and macadamia nuts," he said. "But we re-evaluated while we were over there. I think it will be too much. If I could get a half acre with coffee and macadamia nuts it might be enough."
Tucker said there will be a lot to get used to in Hawaii. Taxes are higher, as are energy and water prices. He said getting a home that has some elevation is good.
"Right on the beach is too hot," he said. "The taxes are astronomical, too."
At a higher elevation a home can take advantage of the trade winds that run across the island, opening jalousie windows, which have multiple slats, to funnel air through the house. Because of the high cost of electricity, most homes don't have air conditioning.
"My brother said you get used to it," Tucker said. "I was miserable the first few days, but once I figured out the windows I did get used to it."
He said irrigation is difficult as well, with farms set up to catch rainwater. If there isn't enough rain, farmers have to haul water up to their catch basins.
"I would probably be fine farming for the first year," he said. "But it would get old fast."
Tucker said interest in the Sunnyside-area winery has ranged from locals who want to get into the winery business to other wineries across the country that he supplies wine to already. Some want to rent the facility, but that won't suit Tucker's needs.
He said he doesn't mind if the new owners change the name of the winery.
"I would, if I bought a winery," he said. He noted that the signs on the building are designed so they will be easy for a new owner to change.
In addition to the winery, Tucker said he needs to sell the family home and his wife's business in Grandview. When he leaves hinges on when those sales happen.
Tucker said he still loves the Yakima Valley, but he's ready to move on.
"We don't have to go," he said. "It's just time."