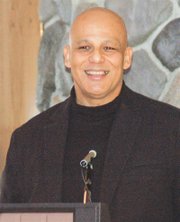 "When people are listening they are filtering the words and already preparing a response," Roberto Matus told the Sunnyview Republican Women's Club this past Tuesday afternoon.
"We teach people how to listen and understand first before reacting."
Matus, executive director of Sunnyside Transformation Yakima Valley, told the club members how he came to Sunnyside as an employee of the Salvation Army, and stayed when he was downsized out of a job.
He heard about a "couple of guys going around praying" and went to see what they were about. He met Jerry Haak and Herman te Velde and immediately felt welcomed.
Sharing his own experiences in the Salvation Army, including a transforming leadership conference he attended, Matus impressed the men with his dedication to making life better for everyone.
The group wanted to put what they'd learned into practice to help Sunnyside. Matus said Haak and te Velde decided to pray about it.
"They asked me to meet them at Burger King at 7 a.m. on a Saturday morning," he said. "Dairy men, they get up early."
At the meeting the pair told Matus they felt God was directing them to start a non-profit and put Matus in charge of it. He started the job that day.
Matus explained that in four years of operation, Sunnyside Transformation Yakima Valley has not taken a penny of government money from any level.
"We have a budget of $85,000 a year," he said. "None of that comes from any government program or agency, not federal, not state, not local."
Matus believes that people should be able to solve problems themselves.
"Don't look to government to solve your problems," he said. "Government has a role, but you must start with yourself. When people start helping people, that's when you start the transformation."
Matus said his organization teaches merchants the servant leadership philosophy.
"First, serve those who you lead," he said. "Then make decisions in your leadership that improve service."
He said business owners have to have a purpose above just profits.
"There's nothing wrong with making money," he said. "But businesses need to integrate a greater purpose into their goals. How can you improve your life, your workers' lives, the lives of the community?"
Matus used a local company that supplies chemicals as an example. He said they made the effort when delivering their product to clean up the delivery area and ask if the customer needed any other help. Their business has skyrocketed. With increased business came the ability to give back, and the company quietly adopted five families to help out during Christmas.
"It works, it improves lives," he said. "Neighbors helping neighbors. We need to get back to that."
Matus talked about the initiatives the organization has already presented to the community, including a youth job fair, health fair, business conference and the "Loving Sunnyside" effort. He said his organization has four new initiatives in the works.
One of them, a community garden, will be located on three acres between the new Christian Reformed Church and Sierra Vista Middle School. People will be able to rent inexpensive plots and grow whatever they want. The food can supplement their own families' diets and extra produce can be given to Sunnyside Transformation to sell at a farmers market, which is the group's second new initiative.
Matus also said the group is working on the Sunnyside Pepper Festival, an event which they hope will bring tourists to Sunnyside.
"Tourists spend money, which helps local businesses, which pay more taxes, which helps the city," he said. "If you lift just one part you can start to lift the whole."
The fourth initiative is a 13-week business course to help budding entrepreneurs learn how to start up a business. By the end of the course the students will be able to provide a business plan to get a loan, either a traditional bank loan or non-traditional loan from a small lender.
Teaching people how to be better leaders by listening, paying attention and serving those they lead is a big part of the Sunnyside Transformation goals. Matus believes those qualities make better leaders, which in turn makes better business.
"People don't really understand what Sunnyside Transformation is," he said. "We are not a church. You can join no matter what your religion. We want more people to be aware of what we do."
For more information on Sunnyside Transformation, visit their website at http://styv.org.