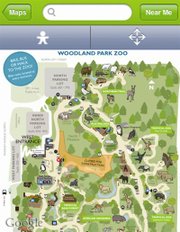 Animal instincts and technology find a perfect meeting point in Seattle's Woodland Park Zoo app.
Released last summer by AVAI Ventures of Austin, Texas, the app is a pleasure whether you're visiting the zoo during this early spring weather we're enjoying or at home on the sofa.
The app is free for Android and Apple mobile platforms and available for downloading either at the iTunes app store or the Android market store.
AVAI is no stranger to creating apps for zoos and attractions, as their client list ranges from the Nebraska State Fair to the London Zoo to the National Park Service's app for the National Mall.
That expertise serves Woodland Park Zoo well in this app. It features photos and extensive informational pieces on every animal species at the zoo - including bugs.
I can see how this would be of special interest to families and young children. That's especially true of videos the app provides on some of the animal exhibits.
There's a video with crowd oohs and aahs for the meerkats and still another set to music for tug-at-your heart snow leapord cubs born with eye defects.
My favorite is a nearly 30-minute long video of the new lion cubs, born just last November and recently displayed at the zoo for the first time. The lion cub video has no music, no dialogue, just the sounds of lion cubs cavorting and momma keeping watch. Think "puppy bowl," but with lion cubs.
Unlike many destination apps, the zoo's also features an attractive, cartoonish map - not just a Google map. It's attractive to look at, easy on the eyes and easy to find your way around, complete with GPS capabilities to point out the nearest exhibit to you if you're at the zoo.
There are also elements of the app that cover scheduled activities at the zoo and even access to social media to link with friends and family members at the zoo.
There is of course perfunctory information on the app about zoo hours, food, buying tickets and gift shop stuff.
But what sets this apart isn't just a list of options, but a sense of playfulness. For example, there is a neat portion of the app that provides frames so when you take a picture with your phone or mobile device the photo is automatically framed with a Woodland Park Zoo design...sort of a free souvenir whether or not you're at the zoo.
Like most apps, the zoo's is a work in progress. There's one section on guided tours of the zoo that is indeed under construction.
Also I noticed there were times when the app went "buggy," closing without warning. Perhaps it's time for an update of the app, as it's been nearly a year since the launch.
Still, you can't beat the free price of having hundreds of animal pictures, research and videos right at your finger tips, right from the source at Woodland Park Zoo.
Android users give the Woodland Park Zoo app a rating of 3.4 out of 5. Apple users seem to enjoy it more with a rating of 4.5 out of 5.