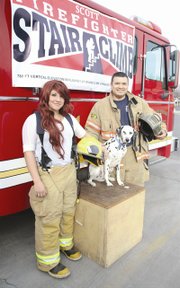 Area firemen are getting in shape for the climb of their life, March 10, in Seattle.
Local firefighters from the Sunnyside and Grandview fire departments will compete at this year's annual Scott Firefighter Stair Climb at the Columbia Center tower in Seattle. At 788 feet of vertical elevation, the Columbia Center (formerly Bank of America tower) in downtown Seattle stands as the second-tallest building west of the Mississippi River.
In full gear and oxygen tanks, firefighters are now preparing to climb the 69 flights of stairs and 1,311 steps to reach the deck overlooking the city. The Scott Firefighter Stair Climb supports the mission of the Leukemia and Lymphoma Society, raising money through sponsorships, individual and department fundraising and entry fees.
Some local firemen are participating in the event to give back, but others are doing it in remembrance of lost loved ones.
Sunnyside fireman Tony Castillo says he's dedicating this year's climb to his uncle, Joel Gomez, and a former co-worker, Jamel Linzsey, who both recently succumbed to Leukemia.
"I'm going to have their names on my helmet during the climb," Castillo added.
Each year, participating teams and individuals rally together, training for the climb and to raise money for the cause, and local firemen are now asking for area residents to pitch in.
More than 1,500 firemen throughout the Northwest are expected to show at this year's event, including nearly a dozen Sunnyside, Grandview and Yakima County Fire District 5 firefighters.
The local participants include Sunnyside firefighters Castillo, Ryan Savage and James Stanton; Grandview firefighters George Saenz, Erubiel Clara, Ingrid Mortensen, Tim Shipley and Maira Olivera; and county firefighters Leroy Littlebull, Dustin Crist, Andy Babcock and Tiffany Oyler. These local servicemen and women are hoping to raise funds to contribute to the cause. Those wanting to donate or sponsor a team can visit www.firefighterstairclimb.org.
Castillo says those wanting a personal visit from local firemen to their classrooms or workplace can call him at (509) 830-7113 to learn more about the stair climb event.