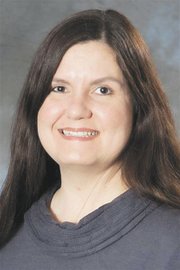 GRANDVIEW - Another medical provider at Grandview Medical Center, Dr. April Biggs, will be leaving the clinic this coming April.
Biggs is the third medical care provider to leave Grandview Medical Center since April 2012.
Biggs, after providing medical care for patients at the clinic for more than 10 years, will take on a more active role at Mattawa Community Medical Clinic.
She said she has been splitting her time between Grandview and Mattawa for a few years. She has been the medical director for the Mattawa clinic and decided she could fill a greater need there.
"There's a need for a female provider," Biggs said of the Mattawa clinic.
The patients under her care will have access to Sunnyside Community Hospital and Biggs can continue to provide care for them there if they are ever admitted to the hospital.
She said that is also important for pregnant women in Mattawa, who have had to change doctors through a "shared care" program when closing in on their delivery date.
"There's been a relationship between the Mattawa Community Medical Clinic and Sunnyside Community Hospital for several years," said Biggs.
Sunnyside Community Hospital spokesperson Sandra Linde said the relationship has been in place for two decades.
"The hospital (administration) believes this will strengthen that relationship," said Linde, noting Biggs will no longer be an employee of Sunnyside Community Hospital but will maintain her authorization at the hospital.
"It's really a win-win," said Linde.
Biggs' Grandview patients will continue to have access to the providers at the Grandview clinic, including Dr. Derek Weaver; Susan Bussert, PA-C and Ty Nielson, PA-C.
Letters of notification will be sent to Biggs' patients in the next couple of weeks, providing them time to choose a new medical provider.
Biggs said Sunnyside Community Hospital is also in the process of recruiting new providers, but it is unknown if they will be placed at Grandview Medical Center.
Linde said, "The hospital is committed to Grandview, though."
She said the hospital is under new leadership, and "...with new leadership comes change."
However, Linde noted, the system is much like any other hospital.
Biggs said the most difficult aspect of her impending departure is knowing she will no longer be treating the patients with whom she has developed relationships.
"I really feel I am doing the right thing for my family and Mattawa, but it's still difficult," said Biggs.
Linde said the hospital is pleased because the administration believes Biggs will help provide better services to the community of Mattawa.