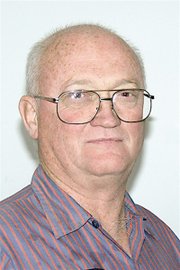 When Sunnyside City Councilman Mike Farmer resigned during the Monday, Feb. 11, council meeting it took some by surprise.
However, he said, "It was just the right time."
Farmer, who was serving as mayor, said his term on council was taking a toll on his personal life, his family's personal life and his business.
Being a council member, he said, involves enduring a lot of public pressure.
Farmer said his decision had nothing to do with the council's decision that night to fire Interim City Manager Frank Sweet, though.
"The decision to fire Frank had pretty much been made before the executive session," he said, adding, "It wasn't the last straw but I saw no reason to vote."
Sweet's termination followed the news that the interim city manager had fired the deputy police chief. Then, when faced with threats of his own employment at risk from some council members, announced that the deputy chief had misinterpreted the letter he gave him and wasn't actually being let go.
Farmer said he was proud of how the council had come together when Sweet was hired. "I respect everyone on the council and I also respect any disagreements."
He said the council members have the right to know what is happening at city hall. They also have a right to express their opinions about what is going on to the city manager.
Farmer said there must be a balance because any decisions made at city hall are up to the city manager. "It's ultimately up to the city manager to decide the proper methods for addressing concerns or recommendations," he said.
As for the questions surrounding Sweet's leadership at city hall, Farmer said he believes Sweet made positive changes.
"I would shudder to think where the city of Sunnyside would be if Frank hadn't come to town."
Farmer said, "The city was in financial trouble, the employee structure was a mess and he brought organization to it."
He said he also views Sunnyside Deputy Police Chief Phil Schenck as an asset to the city.
"Phil has his strong suits and I would also shudder to think where the city would be without him," said Farmer, noting the deputy police chief's efforts to reduce crime in Sunnyside by implementing the crime-free rental housing program and reducing gang violence.
"He's done a good job...it would have been great if Sweet and Schenck could have worked together," said Farmer.
As for leaving his council seat, he said, he enjoyed serving the citizens of Sunnyside.
"This is my city and I don't plan on leaving. I wish the best for the city council and whoever they find to fill the city manager's position," Farmer said.