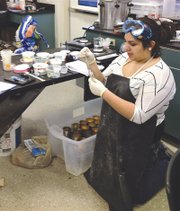 One Sunnyside High Schooler thought it a bit suspect that many of her fellow classmates in band were getting sick.
"I started wondering if the bacteria in band instruments was related to sickness," sophomore Jasmine Paxton said.
So, this local teen went to work analyzing the amount of bacteria in several band instruments, including a trumpet, oboe and flute, as part of her science fair project.
Last Saturday nearly 75 projects were turned in at the local science fair at the high school level, 30 projects from middle schoolers were also presented.
The projects have been judged and awards will be presented tonight, Monday, at Sunnyside High School. Students like Paxton were judged on a points system by 28 local judges.
"There are 28 judges from the community with varying occupations," Sunnyside High School science teacher Joyce Stark said.
Students could earn 100 points out of the judging process. Points were given based on the students' creativity and scientific thought throughout the project's life. Students were also measured on the thoroughness of their projects and skill, clarity and dramatic value were also taken into account on the score sheet.
When presenting their projects, science fair participants explained the details of their project and the findings it produced.
Paxton told judges after measuring bacteria in the musical instruments she found that the trumpet held the most overall compared to the flute and oboe. The tube of the oboe, however, measured having the most bacteria in one place.
Paxton says after seeing the results of her project, she would caution fellow band-mates to make sure they sterilize their instruments at least once a year and to never, ever share their instruments.
"(Sharing)... that's bad, really bad," she added.
Projects at last Saturday's fair varied in topic. Senior Amanda Bestebreur measured the strength, sound, pH levels and temperatures of concrete mixed with other elements.
Bestebreur says for her project, titled "Recyclable Aggregate Concrete," she mixed the concrete herself and in one batch added cherry pits and another, coconut shells. She also made a batch with no additives. Preliminary findings for Bestebreur proved the plain concrete was the strongest. She also added her project was still in progress, saying she measured several different kinds of concrete, at different levels and amounts. Other results were still coming in.
Stark also said the students who score the highest at this local fair will be moving on to the Mid-Columbia Regional Science and Engineering Fair in the Tri-Cities. That fair is slated for March 7- 9 at the Columbia Center Mall.