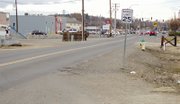 The new location of YV-Tech's Sunnyside branch campus is just a half a mile away from Sunnyside High School along East Edison Avenue, which means students will soon be commuting that short distance by foot.
Unfortunately, about two tenths of a mile of that route lacks sidewalks.
The Sunnyside School District is hoping to resolve the issue soon. Spokesman Curtis Campbell said the plans for the new building that will house the YV-Tech campus include some improvements along East Edison Avenue, but he said he is uncertain if those improvements include sidewalks.
Campbell said that Sunnyside Superintendent Dr. Rick Cole plans to discuss the issue with city and port officials, the other two entities with a stake in the development of the YV-Tech campus.
"At that point we can see who will be responsible for what," said Campbell.
The area already is experiencing increased foot traffic. Some YV-Tech programs are already being taught in portables at the location where the new building will be constructed.
In addition, Integrity Driving School has moved into the port property vacated by Marti's Floral Carte. The close proximity to the high school and in the same area as the YV-Tech campus means students can walk to their driving courses.
Port Executive Director Jay Hester said he was uncertain what sort of deal existed for sidewalks along that area, but thought a sidewalk would improve the area.
"We'd love for it to be put in," he said. "It's would help with the kids for sure."