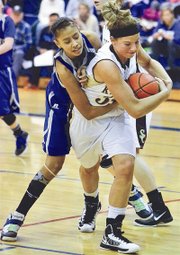 WALLA WALLA - The Lady Knights are charging ahead into the State tournament after defeating the Tekoa-Oakesdale Nighthawks 57-51 last Friday in a loser-out Regional match-up.
"It was a tough game," said Sunnyside Christian Coach Al Smeenk. "This is the most athletic team we've ever faced."
The Nighthawks raced out to a 10-2 lead against the Lady Knights and were still leading 25-23 at the half.
"It was not due to a lack of effort on our part," said Smeenk. "We missed a lot of easy looks early on. The girls were too excited, too motivated. They knew it was a must-win game."
Smeenk said it was only the second time this year his team has been behind at halftime.
"We pulled it out in the end," he said. "We caught them in the third and then it was nip and tuck all the way."
The lead switched a few more times, but by the end of the fourth quarter the Nighthawks were fouling Sunnyside Christian players to get the ball back. The strategy backfired, however, as the Lady Knights made 8-of-10 free throw attempts in the final quarter.
"Annie Brouwer was 4-for-5 and Kara den Hoed was 2-for-2," said Smeenk. "We kept ahead and finished six points up."
The Lady Knights' top scorer in the game was den Hoed, who bucketed 26 points and played the full 32 minutes. Teammate Stormee Van Belle also didn't get a rest and scored 19 points with eight rebounds off the glass.
Brouwer picked up another 8 points for her team while Rita Dalrymple finished off the scoring with 4 points and eight rebounds. Katelyn Banks didn't score but garthered in eight rebounds to keep her team in charge.
"It was a great ball game," said Smeenk. "They played hard. It was the toughest game we've had all year. We knew they'd be good, they were the state champions in volleyball. They are very quick, very athletic."
Sunnyside Christian (25-0) will be at the State tournament in Spokane this coming Thursday, Feb. 28, at 10:30 a.m. to play St. John-Endicott.