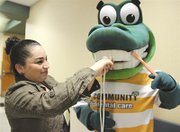 As part of National Children's Dental Health Month, Sunnyside children were paid a visit by a gator with impeccable dental hygiene.
Chomp, as the Community Dental Care mascot is commonly called, visited area elementary schools last week along with fellow coworkers to educate young children on the do's and don'ts of dental hygiene.
Children were also presented with pictorial examples of healthy and unhealthy dietary choices.
"It was cute, when you showed them (the students) what an unhealthy mouth looked like, all the kids would scrunch their noses and make noises," Community Dental Care associate Ana Lee Mendoza said.
Students were also given a tutorial on how to brush and floss their teeth appropriately. Students learned that brushing twice a day, especially just before bedtime, is highly recommended. Chomp and his friends also recommended that students and teachers alike visit the dentist twice each year.
During the 10-minute classroom presentation, students were also provided with brand-new toothbrushes to take home.
Each classroom that Chomp visited, or will visit this week, received a bobble-head figurine of Chomp as a constant reminder to maintain good dental hygiene.