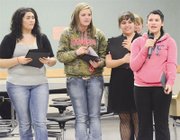 Science teachers from Sunnyside High, and Harrison and Sierra Vista middle schools last night recognized students who participated in this past weekend's Sunnyside Science Fair.
Zach Halma of Sunnyside Christian High School and Michael Condie of Harrison Middle School were honored with the grand prize awards for their projects.
They were among the more than 100 participants in this year's science fair.
Gardenia Contreras was presented with a first-place award, Sarah Berumen was runner-up and third place honors were presented to Payton Sample, all of Sunnyside High School.
For the middle school projects there were mere tenths of a point that separated the first through third-place projects. Cristal Rangel of Harrison Middle School presented a project on bubble longevity that earned first-place honors. Runner-up honors were presented to Janessa Frank and Daisy Abonza, both of Harrison Middle School. Frank's project tested drought-resistant grasses, and Abonza submitted a project involving liquid yeast growth.
Third place honors were presented to Harrison students Andrew Diddens and Angela Estrada.
There were 16 high school students presented honorable mentions, and six students with projects at the middle school level also earned honorable mentions.
The SHS students lauded with honorable mention honors include Vianca Herrera, Salvador Delgadillo, Jayleen Leon, Eunice Perez, Alexis Oxley, Jorge Macias, Christian Murphy, Trajen Frank, Edgar Perez, Annie Lara, Cole Gardner, Xavier Hernandez, Jasmine Paxton, Lindsay Schilperoort, Hunter Zieske and Crystal Cruz.
The students from the middle schools to earn honorable mentions included Kiana Hellner-Gomez, Millie Mancias, Morgan Gardner, Gabriela Estrada, Victoria Cardenas and Clarissa Calderon.
The students will travel to Columbia Center Mall in Kennewick Thursday through Saturday, March 7-9, for the Mid-Columbia Regional Science and Engineering Fair.