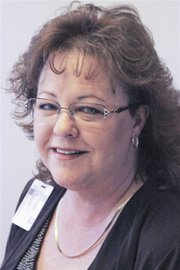 A routine trip to a local post office marked Michelle Nesary's big career move.
On that day, she says, she noticed a job opening taped in the window for a substitute mail carrier. She applied and has been working for the postal service ever since.
Nesary worked as a substitute carrier for about five years, then began working her way up the ladder and enrolled in the company's supervisor program.
"...and here I am," she added.
Now, with more than 20 years of experience in the field, Nesary brings her skills and expertise to the Sunnyside Post Office as its new postmaster.
As a Yakima Valley native, a young (formerly known as) Michelle DePrey, spent much of her youth showing horses in 4-H competitions. She also participated in Girl Scouts until the age of 18.
"We were a big scout family," she said.
Nesary says she loves her job and working with people makes it all worth the while.
"I'm a real people person," she said.
Aside from working with customers, which she loves, she also enjoys getting to work alongside coworkers and helping them further their careers, as well.
Most of all, she says, she's excited to get involved with the Sunnyside community and to meet new people.