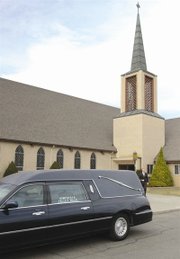 Because of the tight-knit community here, Valley Hills Funeral Home owner David Humpherys says often times funeral services feature standing-room only crowds.
The funeral home's current facility in Sunnyside can accommodate about 120 people for services. So, naturally, the Humpherys were looking for a larger facility.
The local funeral home is moving to the Christian Reformed Church building. The members of the church, located on South 16th Street near Sunnyside High School, are constructing a new church building near North Avenue and South 16th Street. The local funeral home will officially be the new owners of the former church building on June 1, says Humpherys.
The new venue for Valley Hills Funeral Home will allow folks attending a funeral to attend in larger masses. Humpherys says the new facility can host up to 750 people. He also says the parking lot provides 100 more spots than its current location.
Humpherys says the decision to purchase the building was about more than acquiring a larger facility.
"It's such a pretty building, it would be a shame for the community to lose it," he said.
In addition to the current services offered, such as horse-drawn carriage funerals and others, Humpherys says the larger facility will also provide a place for families who want to have a funeral dinner or gathering after the service, as the facility has a kitchen and dining-hall area.
Humpherys, too, believes the church building with stained-glass windows will also be the perfect venue for weddings.
"With the size and beauty of the building, we're going to open up the building for other venues," he added.
Another perk for Humpherys is the location.
"My wife works across the street, I can pop over there and have lunch with her," he said.