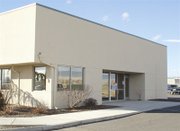 "They want their license," said Shane Mortenson of Integrity Driving School. "They are eager to learn. That makes it fun to teach them."
Mortenson told the Sunnyside Noon Rotary Club on Monday about how his driving school, which caters to local high school students along with other people who need training, now offers the written and driving tests required by the state to get a license.
"The Department of Licensing has stopped testing," said Mortenson. "It's now something that commercial driving schools and the high schools offer."
The change was a slow progression. For many years driving students could take the written test at schools but the driving test still had to be taken at a Department of Licensing office.
"There used to be a month-long wait to get a driving test after passing the written test," said Mortenson. "We can work people in quickly. It clears up schedules and helps a lot."
With his driving school open six days a week, it also means taking the test is much easier for applicants.
"They don't have to take a day off work to get down to the licensing office," he said. "It saves people hassle."
He admitted that one downside is that the written test has gone back to being administered on paper. Although he's tried to get access to the computer system, lots of red tape is in the way. Those who need extra help can still use the computers at licensing offices.
Mortenson said his course is five weeks long with 30 hours of instruction, three days a week. He's never had a waiting list, at one point handling 73 students in a five-week period with only four teachers.
Mortenson said he enjoys teaching teenagers how to drive, but there have been some scary moments.
"One hair-raising moment was when I was teaching a young lady to drive on the freeway, between Sunnyside and Grandview," he said. "She decided to pass a semi as we neared the exit, going around the curve and uphill. She froze. Literally froze. I had to grab the wheel and encourage her."
Mortenson also told the Rotarians that his business is audited annually and has received excellent reports since being founded in 2010.
While answering questions from the group, Mortenson said about 10 percent of his students have never driven before they take his class. Most students have some experience, even if it's just on a tractor. He takes students who are completely new to driving up to the Sierra Vista parking lot to practice.
He also said that if you look closely at his cars you might notice that some of the tires are signed.
"If they hit a curb I make them sign the tire," he said. "Hit a curb once and you get the nickname 'Curby,' hit curbs three times and you are the 'Curbinator.'"