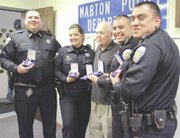 MABTON - After nearly 20 years of service to the Mabton Police Department, Corporal Mike Britton was honored at this past Tuesday night's Mabton City Council meeting.
Britton, along with the rest of the police force, was given a token of appreciation and kind words read by their chief at the first ever Mabton Police Department commendation awards ceremony.
Britton was lauded for serving with honor and distinction in numerous positions in the department, said Police Chief Rick Gutierrez.
"His experience, gained from service as the department's (school resource officer) proved invaluable as he mentored school children to remain free of gang influences," Gutierrez added.
Also recognized at the ceremony was Sergeant Casimiro Cedillo, who was lauded for demonstrating "extraordinary" leadership and operational control skills during the absence of the chief, Gutierrez said.
"His career has been marked by true professionalism and his dedication reflects great credit upon himself, the police department and the citizens of Mabton," Gutierrez added.
Next up for an award and a handshake from the city's mayor was Officer Mario Castilleja.
Castilleja was given a service award for volunteering nearly 1,250 hours to the department over the past three years.
"Due to his aggressive patrol tactics and traffic enforcement, he made numerous arrests on a variety of criminal offenses, resulting in taking firearms, drugs and violent offenders off the streets of Mabton," the police chief added.
Officer Kris Johnson was recognized for logging 1,183 volunteer hours in just a year and a half. Impressive is just one of the words used by her chief to describe the work Johnson has done since serving the citizens of Mabton.
Gutierrez says Johnson has also aided the city in reducing drug-related incidences by high school students.
"On her own time and expense she routinely conducts random drug sweeps of the schools with her highly-trained narcotics K9 partner," Gutierrez said.
Officer P.J. Haddox has been with the department as a reserve officer since September 2010. This corrections officer, police officer and volunteer has logged more than 656 hours working with the Mabton Police Department.
"He has worked alone to cover shifts to provide city coverage during manpower shortages," Gutierrez said.
Haddox also works as a fulltime corrections officer with the Franklin County Sheriffs' Office. Gutierrez says the knowledge gained while working in the jails of Benton, Franklin and Yakima counties has benefitted the local department.
"In past incidents, he has demonstrated a unique and valuable skill as an incident negotiator for on-scene stressful situations," Gutierrez said. "He keeps us informed about early releases of inmates that we need to keep an eye out for."
Officers were also encouraged to invite family members to the ceremony, where after the formalities were complete, officers and their families enjoyed a short time over donuts and milk.
Mayor Angel Reyna added that many of the city's officers are worthy of more praise than given last night.
"You all do so much for the city, we are thankful for everything you've done," he added.