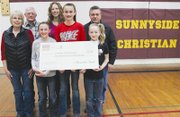 When Kathleen Martin of Sunnyside submitted the application, she didn't figure her chances were all that good in winning an America's Farmers Grow Communities competition, sponsored by the Monsanto Fund.
The Grow Communities program gives farmers across the nation the opportunity to win a $2,500 prize they can donate to their favorite local non-profit organization. Martin chose the local school her grandchildren attend, Sunnyside Christian Elementary School.
Lo and behold, Sunnyside Christian School, Martin and Monsanto representative Kevin Zander passed the check to the school this past Tuesday afternoon.
In 1,271 eligible counties in 39 states, farmers could sign up for the opportunity to win the donation for their favorite community non-profit.
This year, the Monsanto Fund will invest over $5 million in rural America through Grow Communities, which includes double donations for counties suffering from the historic drought.
America's Farmers Grow Communities is sponsored by the Monsanto Fund to highlight the important contributions farmers make every day to society and to help them positively impact their communities.