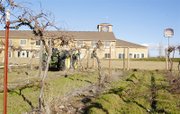 The acres of grapevines that surround the Best Western Grapevine Inn in Sunnyside had been for sale for quite some time before the hotel finally decided to purchase the land and make it part of their facilities.
A small section of the vines were removed to give the hotel a green space where it can hold events, including Sunnyside's Pepper Festival in September.
But now the grapevines are being rejuvenated to create a tourism experience. The trench irrigation will be replaced by overhead sprinklers and the areas between the vines leveled to create walking paths for guests to enjoy.
"The vines are 50 years old," said Eric Placzek, director of sales and marketing for the hotel. "They aren't suited to mechanical picking. Some of them were ripped entirely out of the ground by pickers. We're trying to preserve the beauty and provide a tourist experience."
Placzek said many of the original poles holding up the vines had rotted, so the hotel is currently working on replacing 157 poles and preserving what it can.
The vines are part of a spectacular view of the mountains on sunny days that Placzek said will add to the appeal of the location as both a place to stay while in Sunnyside and a tourist destination in its own right.