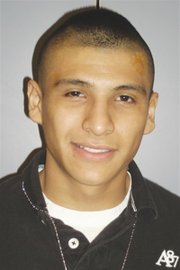 MABTON - Life is all about competition at the Santos and Maria Chavez house.
Competition for the best grades that is. Competition for the best grades has been so fierce for the Chavez children that the two older children are now both attending college and soon younger brother, Crisantos Chavez, will join his siblings in pursuit of a higher education.
Chavez, a Mabton High School senior, was recently awarded a full ride scholarship to Heritage University at the tune of $75,000. Chavez, who maintains a 3.88 GPA, is one of nine Lower Valley seniors to be selected as an Act Six Scholarship winner, according to Delinda Higgins, Yakima Valley Act Six Co-director.
The Act Six Leadership scholarship program is designed for students who demonstrate leadership potential and academic skills.
As an Act Six Scholar, Chavez will receive a four-year scholarship to Heritage University, where he plans to work toward a degree in science, although which field of science is still unclear. "I am interested in physics and in engineering," says Chavez, who also competes on his school's robotic team.
As far as maintaining a high standard for grades, Chavez said even his younger siblings are working to maintain a high GPA. "We are always trying to outdo one another when it comes to grades," Chavez explained.
His older siblings, Marco and Marlen, both Mabton High School graduates, are now attending Washington State University and Eastern Washington University, respectively. The rest of the family include a younger brother, who is a sophomore at Mabton High School, and a brother who is a first grader.
In order to compete for the Act Six Scholarship, Chavez said he wrote essays about his community suggesting ways it might be made better. He also wrote an essay about his personal journey, including his efforts to be a community-minded young person. Those efforts include providing translation services for community and school events. He is also active on the high school's robotics team, and helps coach the high school soccer team. He works as a teacher's aide for his AP English instructor, Joe Ansingh.
"Crisantos enjoys learning and I am glad he has this opportunity to prove himself,'' Ansingh said. "He is a positive and reliable student."
Chavez has taken all of the offered AP classes at Mabton, but feels that he has "so much more to learn."
"Four more years of school is going to help," he said. "The more education, the better. I like school."