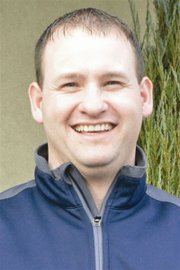 Usually, coach of the year honors are given to the leader of a team who has had an outstanding season with a winning record.
This year, however, the coaches in the South Central Athletic Conference found Mabton girls basketball coach Chris McCallum worthy of the honor.
He said he is honored that his peers named him coach of the year because it is his belief that the other coaches must have noticed positive changes are taking place in the Mabton girls basketball program.
The Lady Vikings had a 2012-13 season record of 11-12. McCallum has been coaching the girls program since 2008 and his overall record is 74-58.
"There are great things happening in Lady Viking basketball," said McCallum, stating his team was young this past season.
Three freshmen and two sophomores started for the team, and McCallum believes they are some of the best athletes he has coached. He said he anticipates the Lady Vikings securing a 1A State tourney berth in 2014.
"My philosophy has always been that there's something to learn from every game, especially from the losses," said McCallum.
He said he learns much more from a loss than a "bad win" because to him a bad win is the result of players going through the motions and not playing to their ability.
"An ugly win is showing no energy, coming out flat and just going through the motions, playing to the level of the other team and going into a coast game," said the coach.
Being named coach of the year, he said, is not an honor he believes solely belongs to him. He said he has a coaching staff that deserves credit, as well.
Nikki Sabedra, he said, gives of her own time without pay. "She puts in more time than many head coaches."
McCallum credits Andy Carrizales and Derrick Nash for providing their expertise, as well.
Before coaching Mabton High School basketball, McCallum was an AAU coach. He joined the coaching staff in Mabton as an assistant to Brock Ledgerwood, who currently serves as the athletic director.
Ledgerwood said McCallum has always been dedicated to helping the players in whatever way possible.
"Even when he was an AAU and assistant coach he was one of the hardest working coaches I've come in contact with," Ledgerwood said of McCallum.
He said McCallum looks for ways to provide the players an advantage, whether he is scouting opponents or coaching the team during the off-season.
"Chris goes above and beyond...coaching is his passion and he is always trying to find more opportunities for his kids to play," said Ledgerwood.
McCallum admits he spends countless hours away from home. That's due in large part to the support he receives from his wife. "Without Andrea I wouldn't be able to do this."
He also credits the parents and players for motivating him and making his job enjoyable. "They are great to me."
Chris McCallum...SCAC girls basketball coach of the year