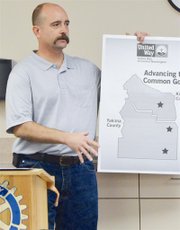 Members of Sunnyside's Daybreak Rotary Club Wednesday morning learned about the ongoing efforts of United Way.
United Way of Central Washington Executive Vice President John Warren was the featured speaker at the club's weekly meeting.
He said United Way of Central Washington merged its Yakima County operations with Kittitas County about four years ago. During the process of reorganization the leadership began to review its operations and partnerships, realizing "...we'd abandoned several communities."
Warren said a new effort and approach was developed to meet the needs of communities outside of the city of Yakima.
"It was easy to focus on Yakima," said Warren, stating an advisory committee was developed to explore how the organization could best meet the needs of the Lower Yakima Valley, which the group refers to as G2MOS (Granger, Grandview, Mabton, Outlook, Sunnyside).
Recognizing each community for its resolve and individual sense of identity, United Way has been able to form stronger partnerships.
Warren said United Way of Central Washington helped Mabton students with a food drive and held a movie in the park event in Grandview to help the communities learn the organization is committed to serving their needs.
"The last three years have been a whirlwind," said Warren, noting the organization is focused on giving back to the communities it serves.
He said United Way is unique in that many of its donors are anonymous because of the way in which contributions are made. Many contributors give to the organization via payroll deductions and employers don't always share the names of the employees who have elected to donate a portion of their paychecks.
As a result, the leadership has made an effort to get out into the communities to publicly thank the residents and contributors, said Warren.
He said United Way of Central Washington is focused on meeting the needs of the community. The organization is committed to education, the financial well being of the citizens and helping individuals learn how to live healthy.
Warren said public input is essential for a successful partnership. He said United Way is looking at ways of bringing people together to discuss issues and connecting them with resources. The organization is committed to helping the communities it serves.
"We've always been good at raising money," said Warren.
However, he admitted, the problem in the past was that community members did not see representatives from United Way once a fundraising campaign ended.
That, said Warren, is what the organization is looking to resolve, working on advocacy and volunteer programs, as well as to have an ongoing presence and discussion for the purpose of building strong communities.