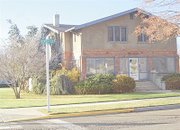 GRANDVIEW - It may take a village to raise a child, as a popular book once contended, but it takes a city to preserve history.
At least that's the case in Grandview, which has no less than 10 officially registered historical sites.
That's a sizeable number for a town of only 10,000 people and it didn't happen by accident.
Most of the sites were listed on the national and/or state historic registers about 25 years ago during an organized effort by Grandview city government.
"We were doing all we could to promote economic development," says Dale Burgeson, who was Grandview's mayor at the time of the push to list historic sites. "Council and the building owners were all for it."
He says the effort for state and national recognition for Grandview's historic sites was "...something to get Grandview on the map."
Burgeson said the idea was to develop a historic district of sorts, to encourage walking tours of the many old buildings in and around Grandview's downtown core.
It proved to be a success, as Grandview received a small grant for state officials to visit the city and review sites for historic notice.
Linda Hartshorn has owned Grandview's historic Dykstra House for nearly 30 years, and says the process was simplified because of the city's involvement.
"The city helped me with all of that...the city did that for any who wanted to pursue it," Hartshorn said of paperwork required for seeking historic designation. "We didn't have to do much," she added. "But it was kind of nerve-racking to see if they'd nominate our house. I was so happy when they did."
The Dykstra House, now a restaurant, is 95 years old and is named for the former Grandview mayor, Bert Dykstra, who built the home and lived there.
Hartshorn says the national listing brings with it honor, and some work - from roof to sewer - to maintain her home's historic integrity. "That's why there's no (handicap accessible) ramp," she said.
She also praised city hall's leadership in getting the historic notice.
"The city really worked on it. It's really worthwhile and made Grandview stand out," Hartshorn said. "People came to Grandview just to look at the historic places."
Michael Houser is a state architectural historian, and he says it's rare for cities to take the lead and have several properties listed on an historic register.
The idea of listing on the state and/or national register is often generated because a property owner simply takes pride in their historic building. "That's the case with about 90 percent of the properties," he says.
Houser adds there are some financial incentives for listing on a register, such as a tax break for historic income-generating buildings such as restaurants and inns.
For Grandview, though, the drive for historic recognition was to help preserve its past for current and future generations, as well as visitors.
Grandview's efforts to list historic properties - ranging from a portion of Grandview Pavement Road to the city's first bank - may have happened 25 years ago, but today's city hall is in many ways still a caretaker for that vision.
That was evident a few years ago when the city's downtown core underwent a massive remodel, complete with new sidewalks, lights and even planters.
Cus Arteaga is Grandview's city administrator, and he said extra caution was taken for work around the historical buildings.
"When we did the downtown revitalization we handled the sites on the register differently," Arteaga said. "When we were doing the sidewalks we did more hand labor so we didn't jeopardize the structure of the buildings."
The city's care for history while laying concrete and asphalt for the future also extended to amenities for the downtown upgrades, such as light poles.
"We didn't want to go with a real modern type of light fixture," he said. "The ones we selected were compatible with the historical buildings downtown."
The extra effort is worthwhile, Arteaga says. "It's the right thing to do to try and preserve them."
Hartshorn agrees.
"It's been very worthwhile," she says. "It's a lot of work but it's been fun."
Make that a lot of teamwork for Grandview, the Lower Valley's history city.
More like this story