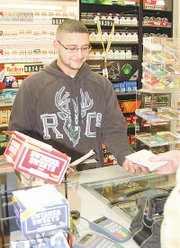 Ahmad Sarameh has been helping at the family convenience store on South 13th Street for about six years.
He says he's done everything there is to do at the shop, from cleaning the bathrooms to ordering stock.
"You name it, I've done it," he said, noting the chores have included such tasks as working on the store's security along with mopping floors and restocking shelves.
Lately he's been working as a cashier at the store while studying at Charter College in Pasco.
Now 19 years old, Sarameh is taking business courses. He isn't sure what he'll do with his life, but he's aimed at knowing a lot about how companies work.
Due to working and studying, Sarameh doesn't have much time for hobbies, but he enjoys tinkering with cars, particularly imports.
"I'm no expert," he said. But it's another way he can see how things work.
Sarameh is grounded in Sunnyside. He was raised here and most of his family still lives in the town or in the Yakima area. He has four brothers and two sisters, two nephews and a niece.
"I have a good family," he said.