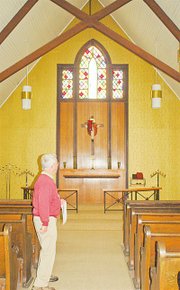 A topless building.
A funeral home turned museum.
Those are just two of many buildings in Sunnyside that hold what could be called a hidden history in this city.
While it may not have many places listed on the state or national historic registers - only the post office building and Snipes cabin carry that distinction - Sunnyside has plenty of its own buildings with historical significance.
Bill Flower is a long time Sunnyside resident and has chronicled much of the area's history.
He says the dearth of historical places - only the Post Office building and Snipes Cabin are officially listed on the state or national register - isn't by design.
Rather, he says it's due to the fact that in the timeframe following World War II, Sunnyside became a city of commerce.
"After World War II people in Sunnyside were more entrepreneurial than other cities in the valley and remodeled their buildings...changed the face of the historical buildings right after the war," Flower says.
He noted his father had a building in Sunnyside and after the war practically tore it down and rebuilt it.
"That happened a lot after World War II," says Flower. He also notes the example of the building that now houses the Sunnyside Chamber of Commerce at Sixth Street and Edison Avenue. He says at one time the structure had a second story that served as the city's first high school. That upper floor - the top, as it were, - was removed to convert the building to a bank.
The upshot is that Sunnyside lacks fewer intact historical buildings, but makes up for it with what could be called hidden historical gems.
That includes buildings moved from their original locations, such as the city's first school and one of its earliest church buildings that now sit side by side near Fourth Street and Edison Avenue.
The first or second church building - there is some debate as a Brethren church building is thought by some to be Sunnyside's first - was Holy Trinity Episcopal Church built in 1901 at Fourth and Edison, according to John Saras, president of the Sunnyside Museum board.
Saras, also a long time member at Holy Trinity, said the original church building - now used as a chapel - had to be moved from the corner to make way for the congregation's new building constructed in 1963.
As for the first school building, that was the Emerson school originally located near Ninth and Edison, current site of Banner Bank.
In 1931 the Emerson school building - which according to some reports at the time was believed to be haunted - was turned over to Holy Trinity.
The school building was moved and situated next to the Holy Trinity church building and is still in use today. The old school gym, for example, is now used as a fellowship hall by Holy Trinity.
The old Emerson school building has gone through many changes in its second life as church classroom and fellowship space, but some of its hidden history remains, such as the original wooden floor that's still visible in the fellowship hall.
Saras noted other examples of historic or significant buildings in Sunnyside include the 1908 Sunnyside irrigation building at the corner of Franklin Avenue and Ninth Street.
Last year it was listed as one of the state's most endangered historical buildings by the non-profit Washington Trust for Historic Preservation.
Another slice of hidden history resides at the Sunnyside Museum itself, as the museum's building dates back to 1909 and originally served as a funeral home.
There are other examples as well, such as train depots that have been preserved and used as professional offices, or even a liquor store building that Saras says once served as a feed store.
Besides a large number of historic buildings that have been renovated or moved, Flowers figures another reason why so few buildings in Sunnyside are listed on a historic register is because of restrictions that he says are imposed on remodeling and improving the buildings.
Michael Houser is a state architectural historian, and he says there actually aren't as many restrictions as people think when it comes to listing properties on state or national historic registers.
He adds there are more restrictions attached - and more fiscal incentives - for cities that establish historic districts. Incentives for historic properties in a local historical district include property tax reductions.
Sunnyside's hidden history makes it unlikely that an official historical district could be launched here.
However, Saras says it would be great if these historic gems were a little less hidden, such as encouraging property owners to place a plaque on their building to signify its age and history.
"What we need is to identify these buildings and let people know about them," he said.