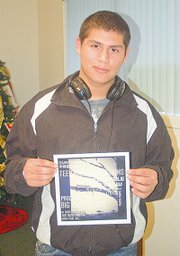 Johnny Mendoza of Sunnyside describes his artwork as "subtle eerie," a description people can judge for themselves this coming weekend by viewing his work at Suntown Coffee in Sunnyside.
Mendoza's work will be on display all weekend, but on Saturday, Jan. 5, he will be selling signed prints from 2 to 6 p.m. All proceeds from the sales will benefit Big Cats Rescue in Florida.
Mendoza, a senior at Sunnyside High School, has been an artist since he was in middle school, and this is his first show. The effort is part of his high school senior project.