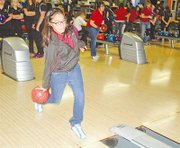 SHS junior Brianna Esqueda was on fire yesterday. The Sunnyside kegler rolled a match-best 351 two-game series against the visiting Wenatchee Panthers.
Unfortunately for the Lady Grizzly bowling team, Wenatchee had too much depth. The Panthers cruised to a 4-0 sweep at Sunnyside's Valley Lanes, the second time in as many outings this season that Wenatchee has blanked the Lady Grizzlies.
Junior Bethany Symonds tossed a 200 in Thursday's opener, leading Wenatchee to a 720-681 victory. Symonds didn't get much help from her teammates in the first game, as the next highest individual score by a Wenatchee bowler was a 136.
Esqueda's 165 paced Sunnyside in the opening contest, and Lady Grizzly teammate Johanna Chumley was nipping on her heels with a 155. The three other SHS bowlers could only manage efforts of 128, 126 and 107, however.
Game two went down to the wire, but the final pin count showed the Panthers prevailing, 744-730. Wenatchee received a pair of 156's from Lexi DaSilva and Perrie Buak, a 150 from Danniel Yant, a 146 from Symonds and a 136 from Madison Kovach.
Esqueda again had the top individual performance for Sunnyside, throwing a 186 in the second game. SHS senior Shantana Schneider also was on target, rolling a 183, which combined with her opening game of 126 lifted her to a 309 two-game series. Sunnyside's other second-game scores included a 139 by Chumley, a 131 by Maria Casas and a 91 by Adriana Lopez.
Wenatchee then clinched yesterday's victory by winning the first of the two Baker games, 193-129.
Unlike the first two heads-up games, where the individual scores of each of the five girls on both squads are added together to tally team scores, Baker bowling calls for each member of the five-girl squad to alternate taking shots throughout a 10-frame match.
The Panthers made it a 4-0 sweep over Sunnyside with a 156-112 win in the second Baker contest.
The Lady Grizzly bowlers (1-10) are scheduled to travel to Yakima next Tuesday, Jan. 8, to take on the Eisenhower Cadets at Nob Hill Lanes. In the two teams' previous meeting this season, Ike squeaked out a 2.5-1.5 win.