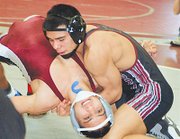 GRANDVIEW - It was only fitting that the Grandview Greyhounds, at home on the mat in the GHS gym, finished with gusto, getting five of its own grapplers in the finals at the 16th annual Grandview Winter Classic.
Ki-Be, however, won the tourney with a team score of 211.5. Grandview was runner-up with 139 points.
Three of the five Greyhound wrestlers in the finals garnered championship honors in their respective weight classes, including Marizza Birrueta (106 lbs.), David Castaneda (126 lbs.) and Joesiah Saunders (138 lbs.).
Saunders, a fourth place finisher at the Sierra Nevada Classic on Dec. 28, proved he is a tough competitor this past Saturday. He had two early pins on his way to the finals, and finished the day with an 8-6 decision over Seth Matarazzo of Ki-Be for the title.
"The match wasn't as close as the score suggests...Joesiah totally controlled the match from the opening whistle," said Grandview Coach Jeff Sevigny.
Birrueta, too, continues to show she's tougher than many of her male counterparts. She claimed the championship title this past Saturday after defeating Wascar Carpio of Henry Foss by a 12-6 decision.
"The win was enough to impress the head coaches...she was voted 'Outstanding Wrestler' of the tournament," Sevigny said of Birrueta's victory.
Castaneda, after being disappointed in Reno, was out to prove he can't be underestimated. In the finals, he made quick work of Peyton Sperl of Prosser, getting the Mustang on his back in just 45 seconds. He had two pins and won a 16-2 decision on his way to that final bout.
Earning their spots, too, in the finals were Grandview's 132-pounder Jaron Raymond and Jose Castilleja (145 lbs.), who each ended the tournament with runner-up honors.
Raymond returned to the mat after a two-week absence and had to scrape off a little rust. He, however, suffered a tough 13-6 loss in the finals to Vicente Morales of the Mabton Vikings.
Castilleja also returned to the mat after a two-week hiatus. He was a little sluggish in the finals, according to Sevigny, who believes Castilleja ran out of gas after defeating his first two opponents. Sevigny said it was also Castilleja's first tournament of the season. He lost by fall to Kale Setzer of Ki-Be.
Third place honors went to three Greyhounds this past Saturday. Alex Soberanes (132 lbs.), Stevie Rodriguez (138 lbs.) and A.J. Valenzuela (170 lbs.) all suffered losses that placed them in the consolation brackets. However, they didn't allow that to hamper their drive for consolation final victories.
Soberanes was put into the consolations by Raymond in the semi-finals, but defeated Roger Polanco of Washougal by an 18-6 decision in the consolation final.
Rodriguez battled Matarazzo in the opening round and a bloody nose placed the 'Hound in the consolations. He didn't let that dampen his spirits and he battled through for three straight wins before winning the consolation final against Cameron Thoreson of Bellevue Christian by a 10-8 decision.
Valenzuela lost in the semi-final round to eventual champion Dakotah Van Hollenbeke of Ki-Be, but was victorious by injury default over Thomas Neimeyer of Prosser in the consolation finals.
Grandview's Adrian Magana (182 lbs.) opened the tournament with a pin before battling the defending State champion, Cruz Del Angel of Ki-Be, for a loss. Magana picked himself up and pinned John Sunderland of Washougal and fell to Tate Razor of Bellevue Christian in 59 seconds in the consolation finals. Magana left the mat with fourth place honors.