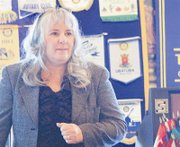 The Arc is an advocacy group that fights for the rights of citizens, Linda Fox, executive director of the Arc of Yakima County, explained to the Sunnyside Noon Rotary Club on Monday.
It started as a parent driven grassroots movement to help families who had children with disabilities. The movement itself began in 1936 when a group of parents whose children were in institutions in Washington state met in Yakima.
They formed the Children's Benevolent League, which eventually became the Arc of Washington State.
Fox told the group that not so long ago, parents didn't know they had a choice and children with disabilities were just assumed to belong in institutions. The institutions were supposed to give the children good care, but instead were overcrowded and understaffed.
In 1950 the National Arc was formed in Minneapolis, with a representative from Washington state as the first president. Fox told the group that Washington has been a forerunner on the issues surrounding disabilities. It was the first state to adopt special education and has always led the way on legislative action.
The first goal of the Arc was to get people out of institutions and into society. The group empowered parents to be able to care for their disabled children and worked to educate and train people with disabilities so they could contribute to society.
In today's society, the Arc continues to advocate for all people with disabilities and offers training and help. Fox said self-advocacy is the best kind because it allows people to tell their own stories and as a result, change laws. The Arc uses leadership training to teach people with disabilities how to advocate for themselves and get involved in government.
Fox told Rotarians that the Arc is always looking for members, partnerships and sponsors. She said volunteer opportunities are available.
The Arc of Yakima County has fought for inclusion, independence, choice and increased public awareness for the intellectually and developmentally disabled since its founding, said Fox, and continues the fight by helping those with disabilities to live full lives.
More information on the Arc of Yakima County is available at http://arcyakimacounty.weebly.com.