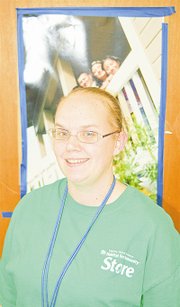 After being a stay-at-home mom for five years, Trina Brooks found herself reintroduced to the workforce at Habitat for Humanity.
Now, Brooks is the manager at the Sunnyside ReStore, working again for Habitat for Humanity and striving to make a difference.
When she was ready to go back to work, Brooks started with WorkSource and was referred to People for People. A program placed her at Habitat for Humanity for nine months. She was paid by People for People, an arrangement that she said worked to foster trust and respect.
"It helps accountability," she said. When the program ended, Brooks applied for the manager position at the Sunnyside ReStore, but didn't get the job.
She got seasonal work at Morton's Supply in Yakima, and impressed her boss.
"My boss thought it was funny that I can remember a customer from six months ago, including what they purchased, but I can't remember what I had for breakfast," she laughed. "I was meant for customer service."
When the manager position at the Sunnyside ReStore became available again, her former employers at Habitat for Humanity asked her if she was interested in coming back.
It wasn't a hard decision to make. She enjoyed the work at Morton's Supply, but managing the ReStore gave her a wider ability to help people.
She said she enjoys getting to know the customers. She has a few regulars, and when something comes in she knows a person will like, she's certain to point it out to them.
"I like to give specific help to customers," she said. "I really love this work."