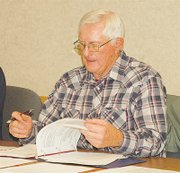 For the first time, officials from the ports of Sunnyside and Grandview will partner to attend and recruit industries at next month's ag expo in Tulare, Calif.
Tulare hosts the world's largest annual agriculture exposition.
Jay Hester is the Port of Sunnyside's executive director and last night, Monday, during the commissioners' meeting said while port officials here have attended Tulare in the past, this will be the first time they have partnered with the Port of Grandview.
In addition, the two ports will work with the Yakima County Development Association (YCDA) in an effort to recruit new industry to this area.
Hester says the ports are already at work lining up interviews with site selectors representing ag and food processors interested in locating in Washington state.
As for the industries they will recruit, he notes the criteria is seeking out those set to make a decision in the next year or two about where in Washington state they will locate.
In partnering with Grandview's port and YCDA, the idea is to attract businesses and jobs to the Yakima Valley.
"Any industry locating in the Yakima Valley is going to benefit us all," Hester said.
- John Fannin can be reached at jfannin@dailysunnews.com or at 837-4500.