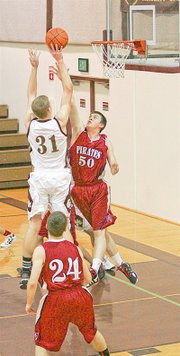 Sunnyside Christian used a 17-0 second-quarter run to put away visiting Bickleton last night, 50-36, in boys hoop league action.
The Knights built a 12-0 lead in the first four minutes of Tuesday's contest, only for the Pirates to hang tough and stay within striking distance, down 15-5 after one quarter.
Bickleton had several good looks at the hoop in the opening quarter, and might have done more damage had the Pirates been able to connect.
For the game, Bickleton hit just 12-of-40 shots from the field, which included going 3-for-13 from treyland. The Pirates also struggled from the foul line, hitting only 9-of-20 attempts.
Sunnyside Christian Coach Brian Bosma said the open looks for Bickleton likely resulted in part because of a new system the Knights employed last night in switching up defenses on dead ball plays.
"There was a little bit of confusion," he said. "We worked on it this summer and we decided last night to sharpen up some of the things we haven't used yet."
The Knights were plenty sharp in the second stanza, ripping off a 17-0 run by patiently pounding the ball inside and using a harassing defense to prevent the Pirates from setting up their offense.
Up 32-5 at the half and 46-14 after three quarters, Sunnyside Christian substituted liberally in the fourth frame and the Pirates took advantage.
Bickleton enjoyed a 22-4 surge in the fourth quarter to close the gap before eventually falling.
Bickleton's two leading scorers were Peter Clinton and Justin Roberts with 16 and 10 points, respectively. Clinton was 6-for-8 in field goal attempts, going 2-for-2 from behind the 3-point arc.
Alex Brouwer led a balanced Knight attack with 12 points, followed by teammate Brandon Broersma with 11 points. Team-wise, Sunnyside Christian shot at a 51 percent clip from the field, making 24-of-47 shots.
Sunnyside Christian (4-0, 9-2) returns to action this coming Friday, Jan. 11, at home against Trout Lake-Glenwood and on Saturday against Lyle-Wishram.
The Knights on Tuesday, Jan. 22, will make up a non-league game at Columbia-Burbank that had previously been cancelled.
Bickleton (1-2, 7-5) is scheduled to host the Klickitat Vandals this coming Friday, then will play at Trout Lake/Glenwood on Saturday.