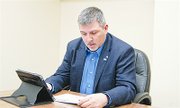 Sunnyside's new members of the subcommittee for public safety met Tuesday afternoon for the first time this year and resolved to keep close track of the police and fire department budgets along with the normal duties of the committee.
Councilman Jim Restucci, Councilwoman Theresa Hancock and Deputy Mayor Don Vlieger replaced Councilmen Nick Paulakis, Jason Raines and Craig Hicks on the committee. Restucci was selected as chairman for 2013 and Hancock as vice chair to start the meeting.
The remainder of the meeting involved status reports from Deputy Police Chief Phil Schenck and Fire Chief Aaron Markham.
Schenck told the committee that the priorities for the police department in 2013 are to get new reserve officers in place, encourage and maintain block watches around town and keep the department's overtime in check.
Markham discussed the planned elimination of the deputy fire chief position in October and how the position's duties would be divided. He also spoke on the need to put money in the capital fund to improve and maintain ambulances.
But the big project the fire department is working on is the new station. Markham told the committee that the process is moving forward as expected and discussed the need to deem as surplus the office building that will be demolished to make way for the new building.
Council members also asked about the impact the construction will have on other businesses in the area, including the post office. Markham said the construction planners are taking other businesses into consideration.
He told the committee that the parking lot next to the post office will be used for construction staging during the process.
The committee meeting ended with the members asking Schenck and Markham for monthly reports. Schenck was also asked to provide statistics on how Sunnyside's crime-free rental program is working compared to Yakima's program.
Vlieger also asked Schenck to provide statistics on how much assistance Sunnyside police provide to the Yakima County Sheriff's office and how much assistance Sunnyside police receive in return.