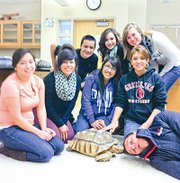 ELLENSBURG - Students from Sunnyside High School took part in a MESA sponsored tour and learning experience at Central Washington University last month.
All students from Teri-Alvarez and Joyce Stark's honors biology classes were invited to participate. The students had a guided tour of the campus, a visit to the Chimposium and interactive and hands-on adventures with reptiles and amphibians in the CWU Biology Department.
The Chimpanzee and Human Communication Institute (CHCI) is a sanctuary for a unique family of signing chimpanzees. Part of a project that began in 1966, five chimps acquired extensive American Sign Language vocabularies. Sunnyside students had a guided observation of chimps Tatu and Loulis's sanctuary, and practiced signing with the chimps.
The Biology Department provided a variety of reptiles and amphibians. Students had an opportunity to touch a variety of snakes, such as garter snake, ball python and Mexican corn snake. A very excited Pacific Northwest Rattlesnake rattled the entire time, giving the group a chance to see one in action.
There was a lot of excitement as students listened to the presenter talk about the animals' biology and habitats, asked questions and passed around the snakes.