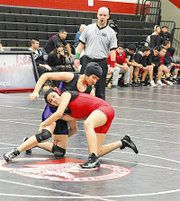 Sunnyside Lady Grizzly grappler Kayla Gonzalez lost her first match of the season last night.
In an exhibition match in Sunnyside last night, Gonzalez faced off against Mabton's Mary Gutierrez. The two, wrestling in the 112-lb. division, battled tooth-and-nail. In the first round, Gonzalez forged a 2-1 lead, but Gutierrez scored an escape to knot the bout at 2-2. The match went into overtime and Gutierrez scored a sudden death takedown, dealing Gonzalez her first loss of the season.
"The first to score in overtime wins the match," Sunnyside Coach Terry Shines said.
Shines also says this was just the third time this season that Gonzalez was taken down.
Also last night, Sunnyside's Adriana Chavez, wrestling in the 106-lb. division, claimed a 7-2 victory over Mabton's Cassie Moreno.
Mabton countered with Jasmine Mendoza's win over Sunnyside's Daisy Chavez. Wrestling in the 124-lb. division, Mendoza won 4-1 against Chavez.
The Sunnyside Lady Grizzly grapplers had been scheduled to compete at the Highland invite this Saturday, but that trip has been cancelled. The Lady Grizzlies are now scheduled to next compete Saturday, Jan. 19, at the Mabton High School invitational.