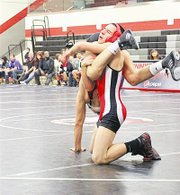 Winning all but two head-to-head matches, the Sunnyside Grizzly wrestling team made quick work of visiting Davis last night in a 58-6 victory.
Making their home debut for the 2012-13 season, the Grizzlies improved to 3-0 in CBBN action with Thursday night's convincing win over the Pirates.
The outcome may have been one-sided, but many of the matches were anything but or even required a late rally for Sunnyside to win.
Such was the case in the 195-lb. weight class, where Sunnyside's Isaac Palomino had to earn a takedown in the final seconds to send his match into overtime. In the extra session he defeated Jackson Lewis with another takedown.
Santos Guerrero (120 lbs.) won another tight match for the Grizzlies with a 3-1 win over Juan Lopez.
The rest of Sunnyside's victories had more breathing room, such as Jesse Barajas (113 lbs.) outpointing Davis' Romiro Ortiz 7-2. The Grizzlies' Anthony Chavez (126 lbs.) earned a 9-3 decision over T.J. Morehouse.
Sunnyside highlights included Sam Romero (152 lbs.) recording a 16-3 major decision over Juan Baudillo and Daniel Avalos (182 lbs.) landing a 16-1 technical fall over Jackson Perez of Davis.
The lone Grizzly pin of the night was claimed by Ramon Hernandez (160 lbs.), who recorded the fall against Kevin Diaz in 3:10.
The only bright points for Davis came at 132 lbs., where Jose Garcia decisioned Sunnyside's Trey DeZote 12-7. The other Pirate victory was at 145 lbs., where Adam Will edged Sunnyside's Noe Palomino 4-3.
Jacob Mendoza (106 lbs.), Cristian Ruiz (138 lbs.), Max Ramos (170 lbs.), Gerardo Lepez (220 lbs.) and Pedro Cardenas (285 lbs.) all recorded forfeits for Sunnyside, worth six team points each.
While pleased with the league win, Sunnyside Coach George Paulus was not enthused about how his team nailed down the victory.
"I thought we looked a little flat," he said. "I think we kind of overlooked these guys. Noe (Palomino) should never have lost to their guy."
Paulus says it's possible the Grizzlies looked past shorthanded Davis in anticipation of Ellensburg's Westburg Invite tomorrow, Saturday.
Sunnyside has won three major tourneys in the past six weeks, but to make it four tomorrow will be a challenge. Paulus says that's because his squad will be without medal contenders Sam Romero and Austin Carman due to injury.
"That's costing us 30 points going into this thing," he says of missing the two athletes. "To win we better be able to make up for it."