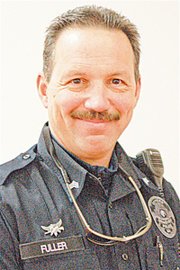 GRANDVIEW - Newly named Assistant Police Chief Kal Fuller has been an officer in Grandview for about 23 years and graduated from Prosser High School.
He replaces Mark Ware, who is retiring at the end of January.
"I guess you could say I'm a native," Fuller said. "I've lived in and around Grandview my whole life."
Fuller did live away from the area for a short time when he first got into law enforcement. His first job took him to Western Washington for a little longer than a year.
"When I saw an opening in Grandview I went for it," he said. "And that brought me home."
In Grandview Fuller has been a patrol officer, a sergeant for 15 years, has served as a detective and has been on the SWAT team for about two years.
Fuller's main goal as assistant police chief is to continue the high quality of service the agency provides for residents.
"Grandview has a very stable administration and police department," he said. "I don't believe you should change things without a good reason. We will tweak it as needed, but no dramatic changes."
He pointed out that he's replacing a man with more than 30 years experience.
"That's hard-earned experience, the kind you don't get without being involved and out on the street," Fuller said of Ware.
Police Chief Dave Charvet will also be retiring soon, another officer Fuller described as having more than 30 years of hard-earned experience.
"That makes it more important to keep the ship steady," he said.
Fuller also stressed the importance of training for police departments.
"Training is the lifeblood of an agency," he said. "You have to stay current on everything from the law to best practices so you don't get left behind."
Referring to the recent school shooting in Connecticut, Fuller said local agencies have been training for such events for years, and are ahead of most of the country in keeping training current.
"Everybody in Yakima County is trained in dealing with an active shooting," he said. "Some departments put it off, keep it a lower priority. We haven't. We're small, but that doesn't mean it will never happen here."