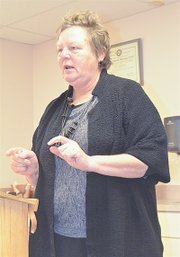 The new president of the Yakima Valley Community Foundation, Linda Moore, wants to develop partnerships with other non-profit organizations to create a greater impact on the community.
That's what she told Sunnyside's Daybreak Rotary Club Wednesday morning.
Moore was the guest speaker for the morning club's weekly meeting.
She said she served as an attorney for most of her career and founded Integrated Solutions when she returned to the Yakima Valley.
Last year Moore saw an opportunity to do what she loves and applied for the role of president of Yakima Valley Community Foundation.
She said the organization had $40 million in assets when she was hired and now has $51 million in assets.
The organization serves as the fourth largest community foundation in Washington state, and operates as a donor-advised fund.
The organization charges donors a small fee to manage funds and has a $14 million endowment.
Moore said donors advise the foundation regarding how funds are distributed. A total of $1.9 million in grants were distributed in 2012.
Currently, she is working to reshape how the grant process is completed. Moore said she is making other changes, as well. She has developed a partnership with United Way, believing the two non-profit organizations can do more for the Yakima Valley if they work together.
"Donors care about impact," said Moore, stating both Yakima Valley Community Foundation and United Way are concerned with how to best meet the needs of the community.
Politics has traditionally gotten in the way of such partnerships and has tainted how investors and philanthropists view non-profit organizations, according to Moore.
This, she said, has left organizations like Yakima Valley Community Foundation with fewer investors.
Acknowledging that, said Moore, has led to more investors for the foundation.
She said the foundation seeks other ways to partner with non-profits in the Yakima Valley, including Rotary clubs.
Moore believes Rotarians can get involved by finding out "...what sets you on fire and do it to the best of your ability."
She said developing a youth advisory committee might be a way to impact the community and Yakima Valley Community Foundation would help fund such a committee.
Moore said she offered the suggestion because she believes it is important to get youth engaged in the community and the youngsters might help grow the Rotary Club.