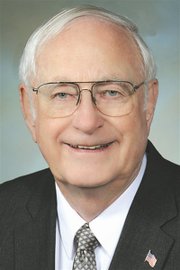 OLYMPIA - The Washington State Legislature begins a new session today, Monday, and Sen. Jim Honeyford already has two proposals for his colleagues to consider.
That's according to the non-partisan Washington Policy Center, which notes Honeyford (R-Sunnyside) has put forward SB 5000.
If approved, the aviation safety bill would require marking any tower with guyed wires that stands 50-feet or taller outside incorporated cities and towns.
The towers would need to be painted in aviation orange and white and have a flashing light that can be seen from a distance of 2,000 feet. There would also need to be markers on the wires.
Honeyford's other proposal, according to the Washington Policy Center, is SB 5001 and it would require Senate confirmation for growth management hearing board members.
The 105-day session is scheduled to end April 28.