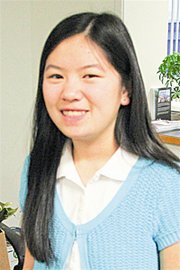 When asked to help at an orphanage this summer, saying no didn't even cross Cheree LaPierre's mind.
A longtime family friend, and the woman responsible for arranging LaPierre's adoption from China, asked LaPierre to help with orphanage work this coming summer in Mexico.
As a young child, the LaPierre family adopted young Cheree and her sister from China. The now 15-year-old says she couldn't ask for a better life here in Sunnyside with her adopted family, and when given the chance to give back to others like her, she just couldn't pass up the opportunity.
Coupling this philanthropic opportunity with her Sunnyside High School senior project requirements seemed like the best fit. Even though it's a few years early, LaPierre says it's not a bad idea to get going on her project early.
LaPierre plans to incorporate music, the Bible and her Spanish language skills to her trip to Carmen, Mexico to visit the St. Peter the Fisherman Orphanage.
This Sunnyside teen is a member of the Yakima Youth Symphony, playing the piano, cello violin and ukulele. She plans to cart along her ukulele, as it is small enough to take the trip with her.
She also hopes to take monetary donations to the orphanage of nearly 60 youngsters, ages 6 to 17. In addition to monies, LaPierre hopes to bring along Spanish-language Bibles, shoes for the children and sports equipment.
LaPierre is teaming up with Our Savior's Lutheran Church in Sunnyside to help raise money for the church and for the orphanage she plans to visit in July. The duo of LaPierre and her former elementary school principal Cathy Mears are planning a haystacks feed at the church on Sunday, Jan 27, at 11 a.m. The group is asking for a $5 minimum donation to enjoy the meal.
For more information about the Jan. 27 fundraising event, contact Mears at (509) 882-1898. For additional information about the trip to Mexico or to arrange donations for the orphanage, contact LaPierre at (509) 837-8055.