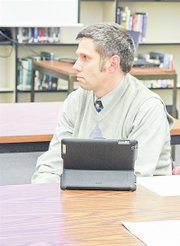 GRANDVIEW - Middle schoolers in Grandview can hang on to their personal wardrobe for now.
"...and, it's dead on the table," Grandview School Board Chairman Paul Jepson said after a vote was cast striking down the Grandview Middle School uniform policy at yesterday's school board meeting.
After a lengthy process over the past year, including community surveys, parent meetings and the formation of a policy development group, the proposed uniform policy at Grandview Middle School was struck down by a 3-2 vote.
Before the vote, director Zulma Ochoa said, "I have to say, I'm publicly opposed to this."
Ochoa continued, saying the policy requires children to conform, taking away their individual rights to express themselves. She also said making more of an effort with parents to prepare students for the real world, and teaching kids how to appropriately dress might serve better than requiring uniforms at the school.
School board director Lydia Moreno chimed in, saying she'd like to commend GMS staff for their hard work with the middle school students. She also said the uniform policy is attempting to cultivate a oneness within the student body.
"I'm 100 percent for that," Moreno added.
After it was apparent that no other comments were going to be made, Moreno called for a motion to approve the measure. After a few moments of silence, director Alfonso Contreras seconded the motion. Yes votes were cast by Jepson and Moreno, while negative votes were given by directors Contreras, Ochoa and Tim Grow.
Grow sited his reasoning for a no vote was because sufficient data was not provided to him, even though he requested it several times.
"I want data points that we can measure objectively, I've asked for those several times, I have to have those for my comfort," he said.
Contreras says he may have voted yes if he better understood the reasons why administration at the middle school wanted this policy instituted.
"I want to know why," he said.
Contreras also said requiring uniforms at just the middle school level is a difficult thing for him to approve. He'd like to see it district-wide, he said.
Grandview Schools Superintendent Kevin Chase responded to Grow's request, saying that data points for instituting a uniform policy include the reduction of dress code violations, the reduction of behavioral issues and increased reading and math test scores.
"That's good, I want to know where we are today and what our goals are for the next year so we can measure (the effectiveness of the policy) objectively," Grow said.