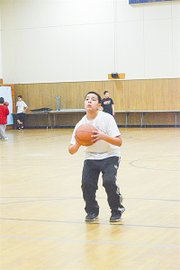 The Sunnyside H.S. Reinhold #14926 council of the Knights of Columbus this past Sunday sponsored a free throw shooting championship competition at St. Joseph's gym.
Competing for titles were youngsters, ages 10 to 14.
Just a smattering of youngsters participated in the afternoon event and four of those boys and girls earned championship titles.
The 10-year-old boys title was earned by Isaiah Isquierdo, who dropped in 8 of 15 baskets.
In the 11-year-old girls division, Kameran Rodriguez earned the title by going 7-for-15.
It was 12-year-old Keanu Cantu who was steady at the charity stripe, sinking 13 of his 15 shots.
In the 13-year-old boys division Michael Esqueda won the title after making 12 buckets on 15 attempts.
Each of the youngsters advance to a District competition, which will be held next month. At that competition, each competitor will have an opportunity to sink up to 25 free throw shots. In the event of a tie, competitors will have five more free throw shots.
Knights of Columbus member Emilio Castro said the competition was open to all youngsters in the community, who fall within the age limits.
The national council, he said, has been sponsoring free throw competitions to get youngsters involved.
The youngsters who competed on Sunday will have an opportunity to advance beyond the district level to a regional competition.
Castro said other councils in the Lower Yakima Valley will also be providing youngsters the opportunity to qualify for the District competition.