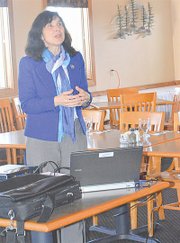 Celia Nightingale admits most people do not look at the Washington Department of Labor and Industries (L&I) as an agency that wants to help business owners.
But, she actually serves in a capacity that is meant to provide support to business owners.
Nightingale, a small business liaison for L&I, was the guest speaker at last Thursday's Sunnyside Chamber of Commerce meeting.
She said she provides outreach and in-reach services, helping resolve issues business owners may have with the state agency.
Nightingale said small business owners don't have a lot of money or time to spare, so she serves to help them understand labor and industry laws enacted by legislators.
She can help mediate a problem before a business finds itself the subject of an inspection.
"I can't tell you how many times a business has come to me when the problem was too big for me to help with...I think 'You should have come to me sooner'," said Nightingale.
She said many business owners across the state do not realize L&I has a number of resources available, including business advisors, for the purpose of helping to make the running of a business simpler.
Worker's compensation is another service provided through L&I. Nightingale said it is like having insurance, even though L&I is a taxing authority.
She said it is a no-fault insurance program that provides business owners with the relief of knowing they do not have to handle the burden of a large injury claim.
"There's no litigation under a no-fault system," said Nightingale.
Worker's compensation rates, she said, are based on a history of claims. Rates are not set by the government.
If an employee is injured, Nightingale suggests employers stay involved in the claims process. She said employers have a right to know what is happening and what is being done when a claim is filed. "Employers have a right to know about the medical information," she said, stating employers can speak with a claim manager and a medical provider when a worker's compensation claim is filed.
Nightingale said employers more often than not do not realize how their worker's compensation rates are affected by claims until it is too late to file for a review.
"Employers have 60 days for a claim review," she said, noting rates change on an annual basis.
Any major claims, said Nightingale, are on record for three years. If an employer has an improved "experience factor," the worker's compensation rate will go down after that three-year term expires.
She said employers can also reduce costs through participation in the stay at work program which was enacted by the legislature in 2011. Through that program, L&I pays up to $10,000 through wage reimbursements for employees who have been injured on the job, but are working light duty assignments.
Nightingale said the agency also will pay for training, tools and equipment, if necessary.
Another way employers can reduce costs is to establish a safety culture at the business, according to Nightingale. She said an accident prevention program is required by law and L&I has safety consultation services available for businesses.
She said employers would also benefit from knowing and following employment laws, as well as hiring wisely.
Nightingale said many business owners don't know that volunteers, children and friends qualify as employees if they are working in some capacity for the business.
"If they are advancing the business, they are an employee," she said.
Nightingale urges business owners to take advantage of the resources available through L&I, such as her liaison services. She and other liaisons can be contacted by calling 1-800-987-0145 or emailing smallbusiness@lni.wa.gov.