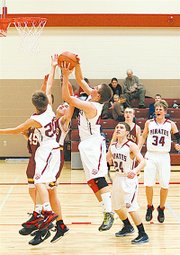 A strong effort on the boards back-to-back nights propelled the Bickleton High School boys basketball team to a pair of Greater Columbia 1B League victories this past weekend.
The two conference wins improved Bickleton's record in league play to 3-2. Bickleton is now 9-5 overall for the season and has won four of its last six games.
The Pirates, on their home court Friday evening, slid past the Klickitat Vandals, 43-32. On the road against Trout Lake/Glenwood Saturday night, Bickleton prevailed in a 65-59 shootout.
Both teams on Saturday crashed the boards hard, but in the end it was Bickleton holding a 53 to 51 rebounding advantage. Senior Taylor Brown led the charge for the Pirates on the glass, scraping 18 loose balls from it. He ended up notching a double-double against the Mustangs by chipping in 10 points.
In defeating Trout Lake/Glenwood on Saturday, the Pirates needed three overtime sessions.
"I am really proud of my players for coming back from being down by 11 points in the fourth quarter," said Bickleton Coach Jerry Roberts. "We did it with great team defense."
The defensive effort Roberts noted led the Mustangs to shooting just 28 percent from the field (21-for-76).
The Bickleton coach also said key 3-point buckets down the stretch by Mitchell Powers, Justin Roberts and Troy Roberts helped the Pirates get past Trout Lake/Glenwood.
"We really played like a team in this game," he added.
Bickleton's top scorer on Saturday was senior Justin Roberts, who made 10-of-12 free throws enroute to tossing in 15 points. The Pirates, too, got 14 and 11-point efforts from Peter Clinton and Nate Powers, respectively.
Friday at home against the visiting Vandals, freshman Kane Lowe and the senior Brown poured in 11 and 10 points, respectively, to lead Bickleton past Klickitat, 43-32. Lowe was 4-for-6 from the field and made 3-of-4 free throws. Brown also went 4-for-6 in field goal attempts and was a perfect 2-for-2 from the foul line.
Michael Underwood and Mitchell Powers each snagged five rebounds to lead the Pirates to a 43 to 34 advantage on scraping loose balls off the boards.
Bickleton's defensive efforts held Klickitat to 24 percent field goal shooting (12-for-49).
The Pirates varsity will host the Granger JV tonight (Tuesday), then will return to 1B league play on Friday at Lyle/Wishram.