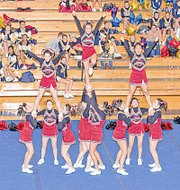 SELAH - The Sunnyside High School cheerleading squad for the first time ever competed in a cheerleading competition this past Saturday.
Although the team was not presented an award at the Selah Viking Cheerfest, the team did score high enough to qualify for the 3A State competition to be held on Saturday, Jan. 26, at Alaska Airlines Arena at Hec Edmundson Pavilion at the University of Washington.
SHS Coach Alejandra Bobadilla is proud of her team and said, "This is a great accomplishment."
She said the team has worked hard, perfecting their routines over the past few weeks.
"I was a little nervous and didn't know what to expect," said Bobadilla, stating she decided the opportunity to compete might help keep the cheerleaders motivated.
"I took them out of their comfort zone," she said of entering the SHS squad in the Selah competition.
Bobadilla said her goal is to develop the cheerleading program at SHS, to the point the team can adequately represent the Yakima Valley at the state level.
"This is a step in the right direction," she said, noting qualifying for State on the first attempt was somewhat of a surprise. "I'm excited."
Sunnyside scored 185 points in the non-tumbling division in Selah. Hanford Gold won top honors in the division. The Hanford team also won the overall title.
The Lady Grizzlies performed a routine that included dance and cheer elements, and ended the routine with pom elements.
"The team was judged in three different categories...dance/cheer, stunts/jumps and technique," said Bobadilla, noting the scores were based on difficulty, execution and formation, transitions and overall dance/cheer routine impression.
"We had no deductions to our score due to any penalties or illegal moves," she said.
Moving forward, the SHS cheerleading squad will work on improving the routine in preparation for the State competition on Jan. 26.