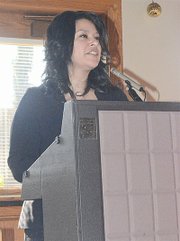 Lower Valley Crisis and Support Services in Sunnyside has come a long way since 1978.
That's according to Executive Director Leticia Garcia, who was yesterday's featured speaker at the Sunnyview Women's Republican Club meeting held at Snipes Mountain Restaurant and Microbrewery.
She told those gathered for the meeting that victim's advocates working for Lower Valley Crisis and Support Services once provided services and support for victims of domestic and sexual assault from their cars.
Now, the advocates work from Wylie House in Sunnyside, but they will meet clients just about anywhere.
Volunteers helping provide services are provided training and Garcia said Lower Valley Crisis and Support Services is always in need of additional volunteers.
Currently, she said, the organization is in need of volunteers willing to be available for the organization's 24-hour call line. She said some volunteers are called to meet with victims at the hospital.
"We are there to let them know support is available," said Garcia, adding, "We are not there to be judgmental."
Advocates, she said, offer a variety of services available via Lower Valley Crisis and Support Services. She said victims are also told about a number of resources that are available to them.
Advocates at Lower Valley Crisis and Support Services provide medical and legal advocacy, counseling services, emergency shelter services and referrals to other services.
"We are with them every step of the way if they want us to be...we will go to court with them and offer our support," said Garcia.
Lower Valley Support and Crisis Services serves all of the Yakima Valley from Union Gap to Prosser. Garcia said it is sometimes easier for residents in Prosser, for instance, to contact her agency because of its proximity. The city of Prosser may be outside Yakima County, but she said, clients there can be provided immediate support and referred to another organization for additional services.
Lower Valley Crisis and Support Services also provides services for prevention. Garcia said presentations to youngsters is part of the organization's service to the community.
Presentations that help youngsters learn about the dangers of date rape and how to develop healthy relationships give Garcia a sense of excitement.
Because the organization is primarily funded by the Washington State Department of Social and Health Services for its domestic violence services, and by the Office of Crime Victims Advocacy for its services to those who have been sexually assaulted, Lower Valley Crisis and Support Services doesn't readily have available the money to update its facilities.
Garcia told those at the luncheon meeting that private donations have provided the organization with the funding necessary for updated carpeting and paint.
She said funding was recently obtained for the development of a new website, as well.
"I would like to have funding for additional emergency housing so that we can help more people," Garcia said, noting Wylie House currently only has shelter space for seven clients.
Garcia said she is looking to the future, hoping the organization can expand its services because she doesn't see a decline in the number of domestic violence cases reported to police each year.
"Last year we served more than 300 clients," she said, noting the figure represents both victims of domestic violence and sexual assault.
In addition to financial donations, Garcia said, the organization welcomes clothing, toys and toiletries for those seeking services at Lower Valley Crisis and Support Services.