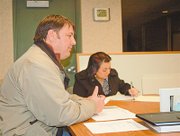 With a federal deadline looming, Sunnyside's Municipal Airport Advisory Board met last night to consider projects for 2013-14.
The FAA provides funding for capital improvements at airports, like Sunnyside's, but has set a deadline for the end of this month for airport projects in 2013 and 2014.
During Tuesday's meeting at the Port of Sunnyside's new business office, the board agreed to reshuffle the priorities for capital projects at the airport to better align with the FAA's priorities.
Board members had previously proposed erecting perimeter fencing around the airport in 2013 to comply with federal security standards.
That changed last night when Shane Fisher, Sunnyside's public works superintendent, told the board FAA officials are putting more focus on runway maintenance.
In response, the board agreed to move up two airport projects originally scheduled for 2017.
One is a $100,000 resurfacing of the Sunnyside Airport's east ramp that is scheduled to see work begin this year.
The other is a $75,000 project moved up to 2014, which will fill in and seal over cracks on the airport runway. That effort will also include re-painting runway markings.
After moving up the two airport improvement projects, board members also agreed to delay installation of the security fence to 2015.
The fence project has a price tag of $300,000 and, like the two upgrades noted above, will be funded through grants provided by the FAA and a 10 percent local match.
The board's priority list for 2013-14 capital improvements at the airport will now be forwarded to the Sunnyside City Council for consideration.
In other discussions related to FAA funding, board members are also a step closer to erecting cameras at the airport to give an accurate count of take-offs and landings in Sunnyside. Board Chair Larry Dolan said tracking airport activity is important because the data helps determine FAA funding levels.
The airport board's next meeting will be Tuesday, Feb. 19, at 5:30 p.m. in the Port of Sunnyside board room.