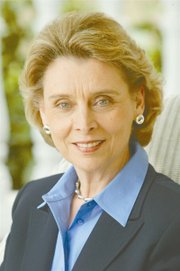 Lower Valley Relay for Life organizers, in keeping with the American Cancer Society's slogan, 'Official sponsor of birthdays,' kicked off the fundraising season in a celebratory atmosphere at Snipes Mountain Restaurant and Microbrewery last night.
Those who gathered for the organization's annual kick-off party were treated to icebreakers, finger foods and cupcakes as they learned more about the event.
Lower Valley Relay for Life is planned for Saturday and Sunday, May 18-19, at Grandview High School's Rich Leenhouts Stadium.
"There are 10 weeks until the relay," said Jaclyn Kendall, who serves as luminaria chairperson this year.
She and the other organizers of the event are excited about the annual fundraiser, stating everyone has a reason to relay.
Event chairman Curtis Campbell said, "Cancer is universal."
He said everyone is impacted by cancer in some way. However, there are more survivors today as a result of the Relay for Life fundraising events held around the world.
There were more than 5,200 relays in more than 20 countries last year. More than 4 million people joined the effort to raise funds for the American Cancer Society's mission to fight cancer.
Relay for Life was started in Tacoma in 1985. That's when Dr. Gordon Klatt decided to raise money for the fight against cancer. He raised $27,000 in a solo event. The following year, Relay for Life became a team event.
Campbell provided those gathered last night with video presentations that explain the importance of sharing the Relay for Life story and how teams can be formed.
Team captains were provided materials and fundraising ideas, as well.
Campbell introduced the committee chairs for this year's event, stating there is still a need for individuals interested in the food, sponsorship, youth, activities, online and advocacy committees.
Also announced at the event were the names of last year's teams and the amount of money raised by each team.
Joanne Looney's team raised more than $10,800 in 2012, which was the most money raised by any of the teams.
Nearly $72,000 was raised by 2012 Relay for Life participants, and this year's goal is to raise $75,000.
Hugh Severs, the district executive director for the American Cancer Society, also attended the kick-off event.
He said not everyone understands what the American Cancer Society does.
"ACS focused on all types of cancer...cancer is a global disease," Severs said.
He said the American Cancer Society is focused on giving people more birthdays and cancer-related deaths have dropped significantly since the organization's inception.
The American Cancer Society, said Severs, conducts its own research. "No other non-profit does that."
In addition to research, he said the organization works with public officials to provide cancer screenings, introduce tobacco control initiatives and supports nutrition and screening guidelines.
"ACS believes it is important to inform and educate patients and caregivers," said Severs, noting the American Cancer Society also provides patient navigators to help individuals diagnosed with cancer learn about their disease.
Navigators also assist in removing barriers for treatment like lodging and transportation for patients and caregivers.
Campbell concluded last night's event by letting the team captains know when their meetings will be held. He said there was a conflict with the original dates of the meetings. A consensus was reached and all agreed the second Tuesday of each month would be more suitable.
Those meetings will be held at the Sunnyside School District office at 6 p.m. and the next meeting will be on Tuesday, Feb. 12.
Anyone interested in joining the fight against cancer and forming a team is urged to contact Campbell at 840-5750 or the team development chair, Doug Rogers, at 391-5832.