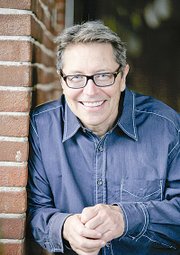 Sunnyside Transformation Yakima Valley, also known as Transformation Sunnyside, will be hosting its first-ever dinner and a show fundraiser on Saturday, Feb. 16.
The event will feature a live comedy show presented by the Feel Good Funny Guy, comedian Nick Arnette.
He is known for providing audiences with entertainment that is funny, light-hearted and clean.
Arnette has worked with Jay Leno and Jerry Seinfeld, performing at some of the country's top comedy clubs, including the Comedy Store and Improv.
He has been seen on television specials featured on HBO, Comedy Central and A&E.
In addition to his stage performances, Arnette has published a comedic book, entitled Me, We, Glee.
The guest speaker during Sunnyside Transformation Yakima Valley's fundraising dinner will be Rudy Carrasco, who serves as the U.S. regional facilitator for Partners Worldwide.
Partners Worldwide is a Michigan-based global organization that addresses hunger, poverty and unemployment in several countries spanning the globe.
The organization to which Sunnyside Transformation Yakima Valley is tied was founded by Sunnyside High School graduate Doug Seebeck.
Carrasco is a blogger and speaker, who has worked with a number of national organizations to address the social needs of inner city and rural populations.
Admission to both the dinner and the comedy show, which will take place at the Sunnyside High School auditorium starting at 6 p.m., is $65.
Those wishing only to enjoy the comedy show will be admitted at the cost of $35 each.
Tickets are available at Sunnyside Transformation Yakima Valley's office, located at 201 S. Seventh St. in Sunnyside, or at various outlets throughout the community.
Individual and business sponsorships for the event are currently being solicited.
Sunnyside Transformation Yakima Valley is geared toward transforming the Sunnyside community through its various community projects and programs, including the Loving Sunnyside Initiative.
All proceeds from the dinner and show fundraiser will benefit those goals.
For more information, call Sarahi Bravo at 836-0115 or email info@styv.org.