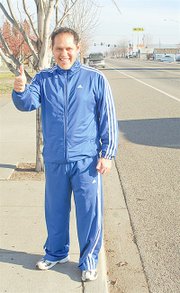 GRANDVIEW - He's played professional soccer in Mexico and today works with professional athletes around the globe.
But this week Oscar Santana's focus is on his hometown of Grandview, where nightly he is participating in a series of messages at the local Seventh Day Adventist Church.
A 1986 graduate of Grandview High School, the son of Maria and Francisco Santana played two seasons as a place-kicker for the UW Husky football team and eventually graduated from CWU.
His athletic background and education as a nutritionist have paid off, as Santana now operates a consulting business as a fitness coach in the Seattle area.
His clients include international, World Cup-caliber soccer players, as well as athletes from the Seattle Sounders and the new Seattle Rain women's soccer team.
As for the nightly bi-lingual meetings he is holding at the Grandview church with Evangelist Christopher Lockhart, Santana says the message is about faith and helping the body recover.
"If we provide the right environment the body can heal itself," says the self-described health evangelist.
That environment, Santana notes, includes proper nutrition, sufficient rest and trust in a divine presence.
As an example, he notes that while medicine can address the symptoms and problems associated with diabetes it cannot heal the disease. Nutrition, he says, can help with healing what ails the body.
Santana's final two appearances in Grandview this week are tonight, Friday, and tomorrow (Saturday) from 7 to 8:30 p.m. at the Seventh Day Adventist Church.
He may be wrapping up a series of health and fitness presentations here, but Santana's message will continue next week with messages in Mattawa.
"The response has been excellent," he says. "People are hungry for this information."