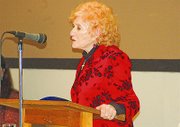 PROSSER - In keeping with a luncheon theme of bicycling, motivational speaker and author Juanita Hamilton described how she tried to ride solo through much of her life.
Hamilton's comments came during the Lower Valley Women's Christian Connection's monthly luncheon meeting in Prosser this past Tuesday.
Hamilton shared her story of becoming a single mother of three when her husband left the family.
She told the group how God blessed during the darkest of times, as when the household furniture was to be auctioned off to pay her husband's debts.
Hamilton was the only person to show up at the auction and with a $5 bid re-claimed her family's entire furniture collection.
She shared how strangers paid for her college education and of her rise to becoming a nationally recognized teacher - even becoming a teacher-in-space finalist for a shuttle mission.
Hamilton also humbly shared with the ladies how she forgot God and turned to a life of drinking, dancing and marijuana.
"I lost my focus," she says. "I wanted to see what the world was about."
Hamilton says it was childhood memories of sitting in church services and hearing the story of Jesus and his love for her that helped turn her life around.
She not only changed her lifestyle for God, but after 25 years of teaching left the profession to become an international Christian speaker and author.
She says the change happened because she let Jesus take control, let Him steer the bicycle of her life.
"Sometimes you come to a crossroads in your life and take a wrong turn," Hamilton says. "But if we choose Christ our future is secured. Everything is possible."