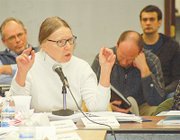 John Alfred Johnson, 98, passed away Jan. 15, 2013. He was born to S.A. and Elizabeth Johnson on March 16, 1924 in Lancaster. His family moved to the Outlook area when he was a child. He graduated from Outlook High School.
He was a proud veteran of the Army Air Corp during WWII and served in the South Pacific. John preferred the outdoor life and did farming in the Outlook area until his retirement and then moved to Grandview.
He enjoyed his passion for gardening and raising roses. John was an excellent outdoorsman who liked fishing, hunting and any trips into the back country. He was an avid reader of anything regarding the Old West and history.
He was preceded in death by his parents, sister, Goldie Van Patter and brother, Albert Johnson. John is survived by his sisters, Minnie Dexter of Freeland and Gladys Riehle of Wilson Creek, and many nieces and nephews. He will be missed by Richard and Delta Bootsma, his best friend and his step-sister.
Thank you to his neighbors and care givers who assisted him when it was needed. Inurnment will follow at a later date at Pleasant Valley Cemetery in St. John. Smith Funeral Home LTD, Sunnyside is in charge of cremation services.
More like this story